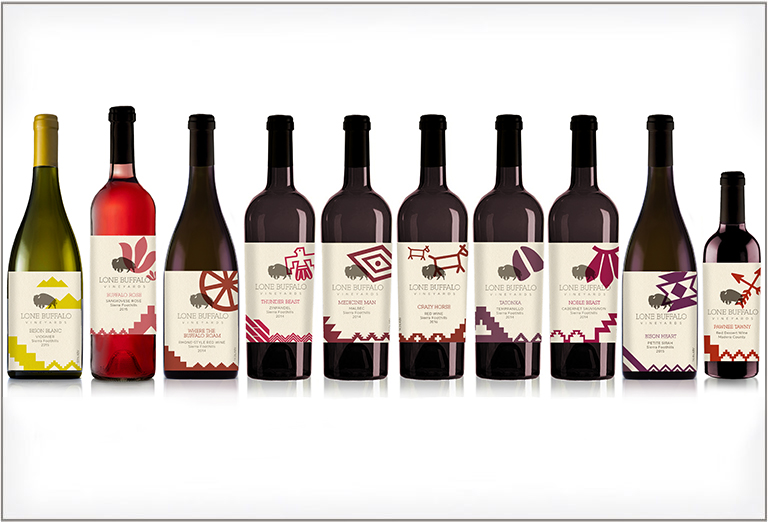 MEET THE HERD
The strength & resilience of the mighty buffalo in the face of encroaching civilization symbolizes hope and renewal for humanity and harmony among all. Lone Buffalo Vineyards symbolizes this same hope and renewal with our contribution to the re-emergence of the wine-making tradition in Placer County.
Premium, Hand-Crafted Boutique Wines
Lone Buffalo Vineyards produces food-friendly, premium wines with the down-to-earth attitude and prices of the Sierra Foothills. As a tribute to the mighty bison for which our winery is named, all our wines have a clever spin on the "buffalo" name. Everything we make is hand-crafted in small lots and sells out each year.
SYMBOLOGY
SYM·BOL·ISM: USE OF A SYMBOL OR OBJECT TO COMMUNICATE IDEAS OR A DEEPER, MORE SIGNIFICANT MEANING
Native Americans expressed ideas and emotions through symbols, sometimes using them in artwork, and sometimes painting them on themselves like tattoos. At Lone Buffalo, we present a new nod to Native American culture by incorporating symbolism into our own artwork, with a new label design that further showcases the individual personality of each of our wines and their place in the Lone Buffalo Brand Story.
OUR WINES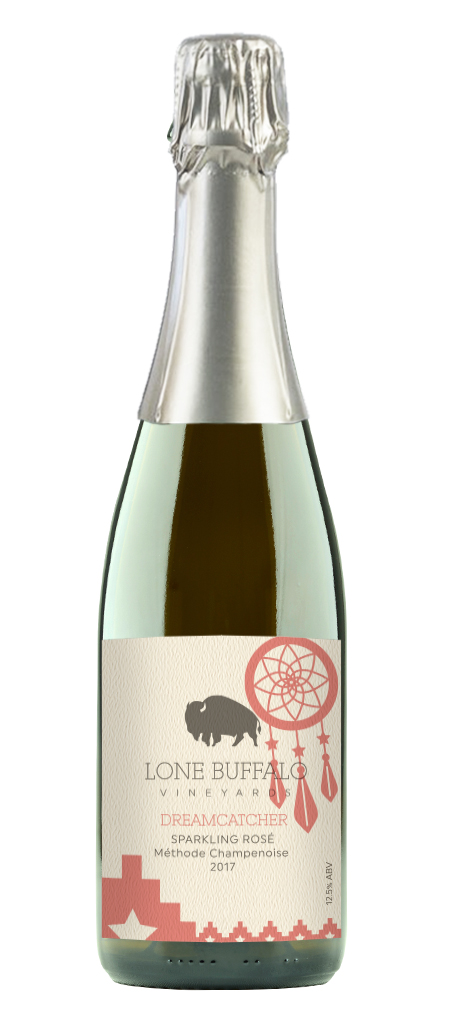 2021 DREAMCATCHER SPARKLING ROSÉ
$49/BOTTLE
A blend of Chardonnay and Pinot Noir grapes make this sparkling rosé, produced in the méthode champenoise tradition, a light & easy Brut style sparkling wine with a hint of strawberry & raspberry. "Come quickly, I am tasting the stars." – Dom Pérignon
DREAMCATCHER = Native Americans believe that the night air is filled with dreams, both good and bad. Dreamcatchers were traditionally used as talismans to protect sleeping people, usually children, from nightmares.

2022 BUFFALO ROSE – GRENACHE ROSÉ
$30/BOTTLE – SOLD OUT!!!
Grenache aged in stainless steel. Enjoy the essence of ripe strawberries, orange zest, hibiscus & a hint of allspice in this Delightfully dry rosé.
Perfect for brunch and lunch – pairs well with lighter faire like salads and picnics.

CACTUS FLOWER = Courtship. A desert rose by another name would smell as sweet!  SOLD OUT! (2022 Coming Soon!)

2020 WHERE THE BUFFALO ROAM – RHONE BLEND  $36/BOTTLE  
Proprietary name for our most popular & medal-winning traditional Rhone-style red blend, produced this year from Syrah, Mourvedre and Grenache grapes grown right here in Placer County. Concentrated but lively fruit, silky tannins, depth with a hint of spice, elegant and easy to drink! Extremely Food Friendly!

LODGE = PERMANENT HOME. The buffalo once roamed, but Wise Road is now his true home.

2020 THUNDER BEAST ZINFANDEL
$36/BOTTLE – SOLD OUT!
Classic Foothill Zin with lush raspberry aroma and flavor but with a subtle peppery finish. As big, bold and briary as the mighty buffalo. Excellent with everything from heavy cheesy pasta sauces to charbroiled steaks. Pair with out-door grilled steaks or chops.
THUNDERBIRD = MESSENGER OF THE GODS.
The thunderous sound of a buffalo herd brings a message of good fortune from the Gods above!

2020 MEDICINE MAN MALBEC
$38/BOTTLE – SALE!  50% OFF 6 0r 12 BOTTLES
The original Bordeaux varietal now celebrated in Argentina is also grown around the world. Here in the Sierra Foothills this inky violet wine with dark, plump fruit character offers robust tannins with a smoky finish and hints of pomegranate, berries & cocoa.

MEDICINE MAN'S EYE = WISE, WATCHFUL. A Medicine Man's wise and watchful eye keeps you happy & healthy!

2020 CRAZY HORSE
$36/BOTTLE – NEW RELEASE!!!
A newer proprietary red blend in the Lone Buffalo program – three wines from three disparate regions brought together to make "one crazy blend." Tempranillo (Spain), Malbec (Bordeaux) and Syrah (Rhone) make for a bold, fruit forward, rustic and spicy wine fit for a warrior and his tribe.

HORSE = JOURNEY.  Take a wine-inspired journey through three of the world's greatest wine regions when you enjoy a glass of Lone Buffalo's 2016 Crazy Horse!

2019 NOBLE BEAST CABERNET SAUVIGNON
$38/BOTTLE
They say that the Sierra Foothills are not "Cab Country", but this wine says otherwise. Grown at the 2800' elevation in El Dorado County, it is lighter and less tannic than many Napa Cabs, but nevertheless exhibits classic Cabernet black cherry fruit and complexity in an easily approachable and enjoyable red wine.

EAGLE FEATHERS = CHIEF. This Foothills Cab is indeed a Chief of the Lone Buffalo herd!
2019 TATONKA TEMPRANILLO
$36/BOTTLE – SOLD OUT!!! 
Well balanced and beautifully textured earthy wine full of plush dark berries and sweet vanilla with an interesting herbal edge. The primary red wine grape of Spain & as mighty as its name, the Lakota Sioux word for the bison. Try with a range of foods like lamb, pork & beef.

BUFFALO HORNS = SUCCESS. Tempranillo shows promise for great success as a unique Foothills varietal!
2019 BISON HEART PETITE SIRAH
$38/BOTTLE – WINE CLUB ONLY!!!
The name is a curiosity as nothing is petite about this wine. Then again, nothing is petite about the buffalo either!  Often the "heart" of many Zinfandels, blended in to add color and depth, meet the heart all on it's own – a blockbuster, blackish, peppery, spicy and rustic wine fit for both Cowboys and Kings.
BUTTERFLY = EVERLASTING LIFE. May your heart be full of joy and life everlasting!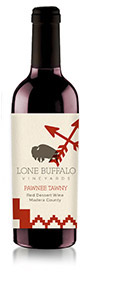 PAWNEE TAWNY – RED DESSERT WINE
$26/BOTTLE
Seven years of oak barrel age gives our "Pawnee Tawny" a rich red-brown color and a buttery, nutty caramel flavor along with hints of dark dried fruits, butterscotch and honey. Made from traditional Portuguese varietals, it exhibits the softness associated with extended wood aging.

CROSSED ARROWS = FRIENDSHIP. Bring out the dessert wine at dinner parties and friends will always feel special!
Part of our jbrand series—unique, small lot curations in collaboration with our daughter, Jocelyn to showcase and integrate her own style and expression into our wines.
CURRENT RELEASES:
2022 Savvy B Sauvignon Blanc – NEW RELEASE – JBrand Natural Wine
$32.00 Retail
Why not try something different for a change? Unconventional Sauvignon Blanc. Foot stomped Sierra Foothill grapes, five days of skin contact, wild yeast fermented & aged in neutral oak barrels. Pineapple, passion fruit and citrus spice.
2020 Just Barbera – NEW RELEASE!!!
$35.00 Retail
Meant to be enjoyed young, floral nose with bright, fresh fruit character and notes of berries and a slight earthy finish.
2020 "Dogface Red"  – NEW RELEASE!
$38.00 Retail  
Grenache, Mouvedre & Syrah—Southern version of our popular Rhone blend—Grenache forward for a more mellow & fruity easy drinkin' red wine. 20% of the proceeds from each bottle goes to preserve open space & agriculture in Placer County.
2020 "just stay in bed red"  – NEW RELEASE!
$34.00 Retail  
New season, new vintage of this fun JBrand Proprietary Blend.  Get cozy and laze around with a blend of 4 of our favorite fooThill varietals (Petite Sirah is again the base but this time it's rounded out by  Barbera, Tempranillo and Syrah.).  Elegant & velvety with a fun, fruity & refreshing finish. A red blend for all cozy occasions!
2022 "just Pét-Nat Albariño" – JBrand Natural Wine – ONLY 2 CASES LEFT!
$36.00 Retail  
Introducing our 2nd Pétillant Natural, a fun, unfined, unfiltered, fruity sparkling wine made via Méthode Ancestrale—the pre-cursor to traditionally produced Champagne. Albariño is the varietal—fresh, juicy & bubbly pear goodness! Good for beer drinkers – we also liken it to a kombucha or hard cider.
AWARDS
CA STATE FAIR COMMERCIAL WINE COMPETITION
2015 Tatonka Tempranillo – Bronze
2015 Medicine Man Malbec – Bronze
2015 Thunder Beast Zinfandel – Bronze
2014 Medicine Man Malbec – Silver
2014 Thunder Beast Zinfandel – Silver
2014 Where The Buffalo Roam – Silver
2013 Where the Buffalo Roam – Bronze
2013 Thunder Beast Zinfandel – Bronze
2015 Buffalo Rose – Bronze
2011 Tatonka Tempranillo – GOLD! BEST OF CLASS!
2011 Where the Buffalo Roam – Silver
2010 Where The Buffalo Roam – BEST OF CLASS!
2010 Thunder Beast Zinfandel – GOLD!
2010 Tatonka Tempranillo – Bronze
2011 Bison Blanc Viognier – Silver
2010 Thunder Beast Zinfandel – Silver
2009 Tatonka Tempranillo – Silver
2009 Where the Buffalo Roam – Silver
2010 Noble Beast Cabernet Sauvignon – Bronze
2008 Where The Buffalo Roam – Best of Class
SAN FRANCISCO CHRONICLE WINE COMPETITION
2015 Sitting Bull Syrah – Silver
2015 Tatonka Tempranillo – Silver
2015 Thunder Beast Zinfandel – Silver
2014 Where The Buffalo Roam – Bronze
2014 Noble Beast Cabernet – Silver
2014 Thunder Beast Zinfandel – Bronze
2011 Where the Buffalo Roam – Silver
2011 just Grenache – Bronze
2011 Noble Beast Cabernet Sauvignon – Bronze
2010 Thunder Beast Zinfandel – GOLD
2011 Bison Blanc Viognier – Silver
2010 Tatonka Tempranillo – Silver
2010 Where The Buffalo Roam – Bronze
2010 Noble Beast Cabernet Sauvignon – Bronze
2010 Bison Blanc Viognier – Silver
2009 Tatonka Tempranillo – Bronze
2009 Where the Buffalo Roam – Bronze
2009 Thunder Beast Zinfandel – Bronze
2008 Tatonka Tempranillo – Silver
2007 Where the Buffalo Roam – Gold
2007 Thunder Beast Zinfandel – Silver
West Coast Wine Competition
2011 Bison Blanc Viognier – Bronze
2010 Thunder Beast Zinfandel – Bronze
2010 Bison Blanc Viognier – Silver
2009 Where The Buffalo Roam – Silver
2009 Thunder Beast Zinfandel – Bronze
2009 Bison Blanc Viognier – Silver
2008 Where The Buffalo Roam – Gold Medal, Best of Class
ORANGE COUNTY COMMERCIAL WINE COMPETITION
2015 Tatonka Tempranillo – Bronze
2015 Medicine Man Malbec – Bronze
2015 Thunder Beast Zinfandel – Bronze
2014 Noble Beast Cabernet – Silver
2014 Thunder Beast Zinfandel – Silver
2014 Where The Buffalo Roam – Bronze
2011 Where the Buffalo Roam – Gold
2010 Tatonka Tempranillo – Silver
2010 Thunder Beast Zinfandel – Silver
2010 Where The Buffalo Roam – Bronze
2009 Where the Buffalo Roam – Silver
2009 Tatonka Tempranillo – Bronze
2008 Tatonka Tempranillo – Bronze
GRAND HARVEST AWARDS – VINEYARD & WINERY MAGAZING
2008 Where the Buffalo Roam – Silver Medal